Climate Protection
Improving energy efficiency and reducing greenhouse gas emissions have been our core competencies for over 15 years.
Energy and greenhouse gas balances are part of the basis for any planning to reduce the carbon footprint of companies, products and projects.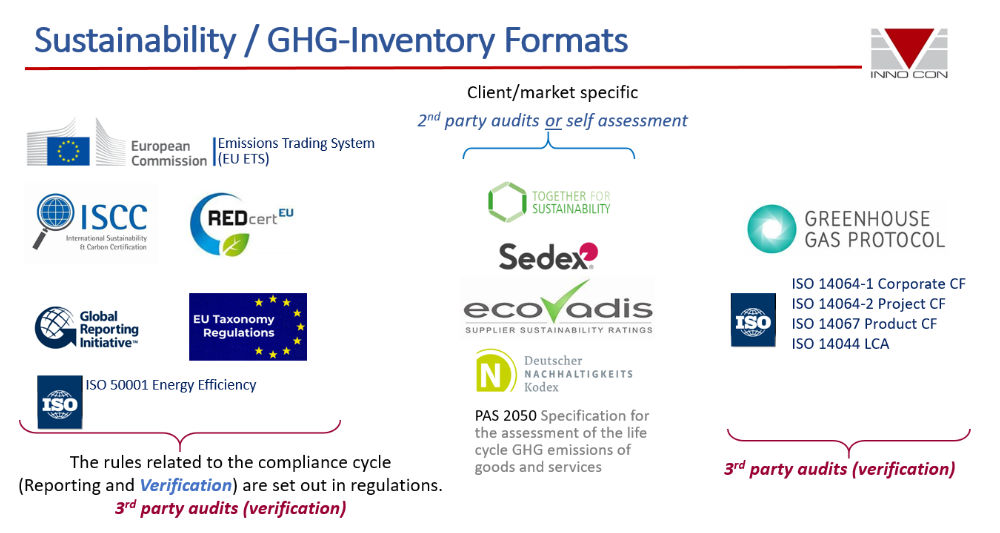 Energy management
Energy management systems (e.g. according to ISO 50001, EN16427, etc.) are becoming increasingly important for companies, as they have a direct positive impact on costs and the environmental profile of a company. Today, sustainability is an important consideration for many clients and customers when choosing products and services. Energy efficiency measures help to lower energy costs while reducing a company's carbon footprint.
In addition, compliance with energy efficiency standards is becoming mandatory or recommended in an increasing number of industries and countries. Therefore, it is important for companies to take energy saving and optimization measures at an early stage to prepare for these requirements and adapt if necessary. With a continuous improvement of energy-related performance and the associated increase in energy efficiency, substantial cost savings can often also be realized and risks related to energy supply can be reduced.
INNO-CON can look back on many years of experience in the field of energy management. For example, in cooperation with the energy agency M-VENA and the State Ministry of Economics and Labor, we played the role of energy management consultant in the establishment of the innovative energy efficiency network MITTE. Sachsen Anhalt. In addition, we also act as BAFA-approved energy auditors for the energy audits according to the Energy Services Act (EDL-G).
INNO-CON's auditors also certify energy management systems for DQS according to ISO 50001, SpaEV and evaluate energy efficiency measures according to DIN EN 17463 (VALERI).
ESG reporting
ESG reports are comprehensive reports that assess a company's environmental impact, social responsibility and corporate governance and are becoming increasingly important in the industrial and real estate sectors as many owners, investors, funds but also end consumers are placing more and more emphasis on responsible and sustainable investments.
Our sustainability reporting experts prepare ESG (Environmental, Social and Governance) reports for our clients. In doing so, our auditors can draw on years of experience in ESG reporting to accurately and in detail present the clients' sustainability performance without greenwashing.
ESG reports show important indicators of an investment's future sustainability. In times of growing environmental awareness, preparing an ESG report is a right and important step towards a more sustainable future for your company. We help our clients to transparently present their sustainability performance, capture their environmental protection potential, define environmental protection targets and strengthen their reputation in the industry.
CRREM calculation
The Carbon Risk Real Estate Monitor (CRREM) calculation is an essential factor in assessing the CO2 emissions and energy consumption of buildings in the real estate industry. These calculations help companies understand and minimize their carbon footprint to achieve their sustainability goals.
We provide comprehensive CRREM calculations that take into account the stranding point - which is a threshold that indicates the potential for a property to be considered a stranded asset in the future if it does not adapt to rapidly changing market demands. After a property inspection and review of the building data, our experts prepare a meaningful assessment of the CO2 emissions and energy efficiency of the property in question.
ISO 14064 family
More than ever, companies have a responsibility to minimize their impact on the environment. A key aspect of this is monitoring and minimizing greenhouse gas emissions. The standards of the ISO 14064 family provide an important framework for consistent GHG statements.
We can help you prepare for ISO 14064 certifications, for example, by preparing your company's GHG statement according to ISO 14064-1. Our experienced professionals help companies calculate their carbon footprint and advise companies on how to minimize their GHG emissions. Factors considered include the company's total emissions, including production, supply chain and product use.
Our extensive knowledge in this area helps companies prepare for certification according to ISO 12064-1, 12064-2 as well as ISO 14067. These tools also lay the foundations for successful reporting according to GRI standards (Global Reporting Initiative).